Cari Thomas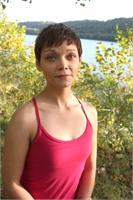 Cari Thomas is passionate about Pilates, Ballet, and Life. Cari believes that to be a good teacher you must always be a student, continue learning, always keep practicing, and always stay humble. Cari loves working with all kinds of people because Pilates is for all kinds of people. Cari has a niche working with people who have physical and mental restrictions, from hip and knee replacement pre and post surgery, spinal concerns, depression, Multiple Sclerosis, and cancer survivors. Cari also enjoys working with people who have no restrictions and want a full body workout that is good for the body. Cari focuses on a full body workout to help balance the imbalances of the muscles and alignment of the body. She also focuses on having her students work hard but never strain and leave better than when they came into the studio.
Cari has been teaching Pilates for 9 years, has two full comprehensive Pilates certifications and is currently working on her third full comprehensive certification. (Classical Pilates, Integrated Balance, working on BASI) She also attends continuing education workshops for Pilates and the body. Being a former professional ballet dancer also gives Cari an eye for movement and alignment.
Cari Thomas instructs the following:
This reformer class you will work through a choreographed routine of challenging exercises meant for a champion. You will strengthen, stretch and lengthen your body. Prerequisites: 5 private sessions and instuctor approval




Combo of barre class with the cardio slide boards. Please bring a pair of synthetic socks (not cotton).




Enjoying stretch strenght and mobility




Circuit style body pump class where you get to work on form, track your weights to see improvement and push yourself toa level.