About Pilates Body LLC in Gig Harbor, WA
---
Our Gig Harbor studio offers modern, full-service Pilates facilities, featuring equipment by Balanced Body® and PeakPilates®.


We are committed to creating a safe and comfortable environment for anybody wishing to learn and practice Pilates. We have fully accredited and certified instructors experienced in working with all ages, male/female, post rehab therapy, dancers, post or prenatal pregnancy, specific sports conditioning, body imbalances, and much more.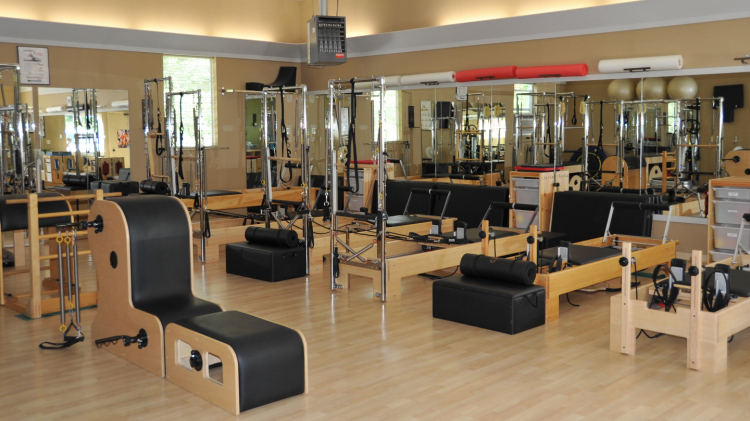 Pilates and Fitness Programs
Now Offering over 20 Classes per week
Group Reformer Classes

Les Mills BodyPump, RPM, Bodyflow

Pilates Mat Classes

High Intensity Reformer Classes

Gentle Flow Pilates Reformer Class

Pilates Circuit

Booty Barre

IndoRow

TRX

Rip n' Row

Spin/IndoRow Combo
Information/Policies
---
To reach our Front Desk Staff, please call 253.853.6200. We are ready and willing to answer your questions regarding our services and facility!

Scheduling a Session
Equipment sessions are by appointment. Group mat classes are open for drop-in, with the exception of RPM. First time clients please arrive 5 minutes before your session. We will show you around the studio, and have you fill out a client profile. To schedule an appointment call: 253-853-6200
To schedule a session online Click Here.

Attire
Please wear comfortable, non-restrictive exercise clothing. Try to avoid bulky garments. The ability to see your body movement is important to obtain maximum benefit from the exercises. Shoes are not permitted in the studio. You may want to wear socks or go barefoot during your lesson or class.

Fee Structure
To secure your appointment, a credit card number is required at the time of the booking. Sessions may be purchased individually or at special package rates of five, 10, 20 or 25 sessions. Packages are time limited based on the date of your first visit. If your account has been inactive for 12 months, it will automatically expire. Pricing is subject to change without notice. Talk to a Studio Coordinator for specific schedule and fee information.

Billing
All sessions are booked by appointment and are automatically billed to your account. We provide a number of payment options for your convenience: cash, check, VISA, MasterCard, and debit cards are accepted. Our memberships are done on a year commitment with an auto-billing system. To end your membership a 30 day written notice is required.

Food
For safety, avoid eating for 30 minutes before and after your session. Please be sure to come to class well hydrated and with a water bottle to avoid dehydration and cramping.

Cancellation Policy
We request a 24-hour notice to either cancel or reschedule your session. This covers the cost of reserving the instructor and studio space. Late cancellations or no-shows will be billed to your credit card on file. Unpaid classes will be charged to your credit card at the single class rate. There are NO refunds or exchanges on purchases.
Courtesies
Please be on time for your session.
Please stay at home if you are contagious.
Please turn off your cell phone.
Please do not wear perfume to your session.
Please do not bring your children to the studio.

Card Expirations
All series cards and special offers expire 6 months from purchase date. Series that are about to expire can be extended by purchasing another similar type of series. Please contact the front desk for details.